"20th century Spanish music: Voice in Ebony"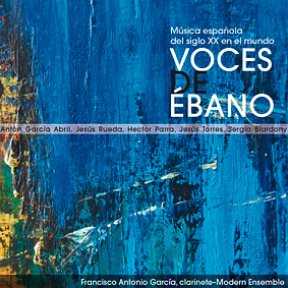 Works of Antón García Abril, Jesús Rueda, Héctor Parra, Jesús Torres and Sergio Blardony
Francisco Antonio García (clarinete); Modern Ensemble: Juan Luis Gallego (violín), José Manuel Román (viola), David Apellániz (violoncello), Sara Almazán (mezzosoprano), Carmen Esteban (piano), Francisco José Segovia (piano).
Coda Out COUT 3031
Recorded at Auditorio Eduardo del Pueyo del Conservatorio Superior de Música de Aragón, 2008 World premiere record
This recording features several Spanish composers born at different times during the 20th century. They all write in a universal style, and their works have reached international acclaim. The pieces chosen for this CD focus on one of music's most versatile instruments, the clarinet. As you listen, you will also notice a great variety of subtle gradations in terms of instrumental scoring. Our purpose is to enrich Spanish discography with a series of works never previously recorded, and to present composers whose universal significance far surpasses what we can propose within the limits of a modest selection. These composers are all still writing in the 21st century; they have won prestigious prizes and achieved worldwide renown.
Concerning the interpretation, saying that we are facing musicians who have nothing to envy to the best anywhere in the world. Francisco Antonio Garcia is one of those performers who have fully understood that not only requires a refined technique but the analysis and understanding of the intent of the author should be attached to it to produce a true musical result. But this careful record should be emphasized also a fact that not always the case: the level of interpretation of all the participants-members of the Ensemble Modern, is really high, something that is not easy given the diversity of style and aesthetics recorded works and the technical difficulties that most expressive face. Sul Ponticello, December 2009
Francisco Antonio Garcia is able to diplay his considerable mastery of the instrument throughout, and in the closing minute-and-a-half solo of this five-and-a-half-minute piece, Garcia is indeed impressive with his control of dynamics, rapid intervals, quick articulation, and the natural and musical ease with wich he ejecutes multiphonics and other extended techniques. Mort d'Antigone and its stunning performance is a high point of this release. "The Clarinet" march 2010 by William Nichols